An EIB course on Investment and Investment Finance
October 25, 2023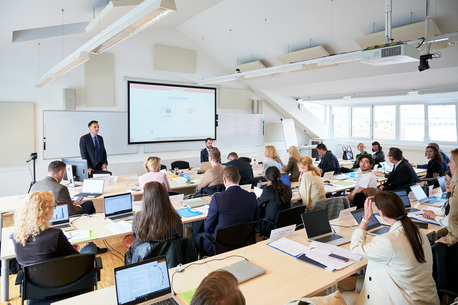 Bridging the gap between EU-level financing opportunities and potential projects at the national level is one of the ways to address Europe's backlog of long-term investment. This is why over the years, the EIB Group has been actively involved in organizing a dedicated course on investment and investment finance at the Joint Vienna Institute (JVI). The course is coordinated by the Economics Department of the EIB with contributions from various services from across the Bank, including the operations, projects, advisory, finance, procurement, and the European Investment Fund (EIF)– the dedicated SME lending arm.

In 2023 it was the 10th edition of the course, delivered consecutively every year since 2014. Over the years, it has become an important landmark in the EIB's knowledge-sharing strategy. The main areas covered during the recent edition included an overview of the EIB and EIF's activities and product offers, project appraisal cycle and the principles of the cost benefit analysis, EIB Group's climate agenda and its role in energy transition, contribution to cohesion and just transition, and more. Presentations were mixed with hands-on case studies, allowing the participants to get more hands-on experience of EIB's environment.

The course provides an opportunity to strengthen operational links between the EIB Group and many of its partner countries, while at the same time disseminating best practices and standards in line with EIB Group's priorities. Course participants could potentially become key contacts in their respective administrations. This year, the course was attended by officials from more than 20 countries and was held between 9-13 October in Vienna, at the JVI facility, with some of the interventions delivered virtually. Ultimately, the course supports development and convergence in partner countries through better project development and increased visibility of joint business opportunities with the EIB Group.

The next delivery of the course is planned for October 2024.

Matteo Ferrazzi and Marcin Wolski, Course coordinators, European Investment Bank