Course on Public Private Partnerships
October 21, 2022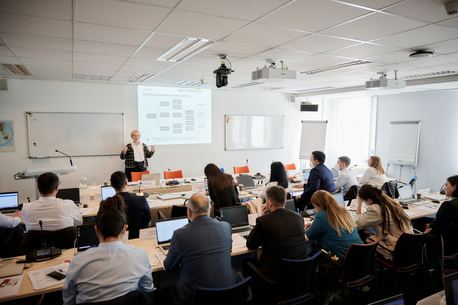 From October 10 to October 14 2022 the Vienna Institute for International Economic Studies delivered a course sponsored by the Austrian Authorities on Public Private Partnerships (PPPs) at JVI. 22 participants from 12 countries took part in the course. The course was held in person, after two years of online presentations. Both participants and presenters were quite happy about this format since it allowed for more intensive exchange of ideas and establishing contacts among participants.
The objective of the course was to present the most important features of PPPs, deepen participants' understanding of financial, legal and fiscal aspects of PPPs and transfer practical experience with case studies. Participants had the opportunity to apply relevant concepts in two workshops and were encouraged to look at pros and cons of PPP structures. Special emphasis was given to the importance of detailed project planning and preparation. The case studies covered the health and transport infrastructure sector, the view from suppliers, PPPs at the municipal and regional level and an analysis of PPP cases from the Western Balkans. A representative from the EBRD spoke on bankability of projects and an expert from EIB on the role and responsibilities of the public sector.
Participants participated actively in the course, asking many questions, discussing relevant issues. They used the opportunity for an exchange of ideas and presented experiences from their own countries. They gave excellent presentations and seemed to enjoy doing so. Feedback from the evaluations was quite positive.
Elisabeth Hagen, Senior Research Associate, The Vienna Institute for International Economic Studies